5K Walking & Nordic Walking
Walking is a particularly joint-friendly form of running in which one foot always remains in contact with the ground. Nordic Walking also uses poles to provide an extra push through the upper body. The 5K loop through the Tiergarten can be done with or without a timekeeping.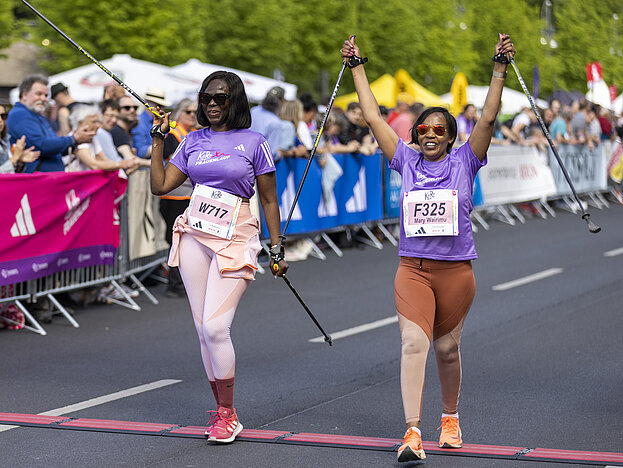 Date and Registration
DATE:
May 11, 2024
STARTING TIMES:
5K Walking (with and without timekeeping): 4:40 pm
5K Nordic Walking (with and without timekeeping): 4:10 pm
TIMEKEEPING AND TIME LIMIT:
Time measurement is done exclusively with the MIKA TAG. The MIKA TAG consists of the start number on which a disposable transponder is attached.
The time limit for the 5K is 1 hour from crossing the start.
ELIGIBILITY:
According to the event name and following the German athletics regulations, only women in the age group 2014 and older are allowed to participate.
PARTICIPATION FEE WITHOUT TIMEKEEPING:
| | | |
| --- | --- | --- |
| | Adults | Youth |
| Level I | 29,00€ | 16,00€ |
| Level II | 33,00€ | 19,00€ |
| Level III | 37,00€ | 21,00€ |
PARTICIPATION FEE WITH TIMEKEEPING:
| | | |
| --- | --- | --- |
| | Adults | Youth |
| Level I | 31,00€ | 18,00€ |
| Level II | 35,00€ | 21,00€ |
| Level III | 39,00€ | 24,00€ |